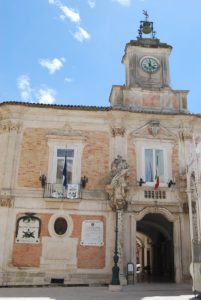 Located to the north west of Foggia, and reputedly one of the last cities in Italy to remain pagan, San Severo was converted to Christianity in 536 by the Bishop of Siponto, resulting in the town being renamed, shedding its Greek heritage. The city benefited by being on the pilgrimage route to Monte Sant'Angelo and became a flourishing trade centre. In 1230 it flexed its muscles and successfully rebelled against Frederick II. Its rulers changed many times over the next few centuries. It eventually became part of the Kingdom of Naples and Sicily, and was incorporated into the unified Italy in 1860. There was a severe earthquake in 1627, and the subsequent reconstruction of key buildings was mainly in Baroque style.
Today San Severo is a busy commercial city (54,000 inhabitants), especially well known for its wine and olive production. Romanesque and baroque style buildings are dotted around the old central area. The heart of the centro storico is Piazza Municipio, which is quite small and not especially attractive. The Municipio itself is housed in the Palazzo Celestini, which forms one side of the piazza; this is a former monastery and contains rooms and decorations of considerable cultural interest, which can be visited just by getting permission to enter the offices.
Nearby is the Cattedrale di Santa Maria Assunta, and there are various other churches in the area, the main ones being Chiesa di San Severino, Santuario della Madonna del Soccorso, Chiesa del Carmine.
One of the town's most famous buildings is the Teatro Comunale (Teatro Verdi) on Corso Garibaldi. The original early 19th Century theatre was rebuilt by the fascist regime and re-opened in 1936.
San Severo is the first big town encountered when approaching Puglia from the north by road and rail. If you are looking for a stopping off place north of Bari, it is of less interest than Foggia, and of much less interest than Trani. However, it is the base for transport links to the northern part of the Gargano peninsula, so is a convenient place to visit if heading to that area. It is well served by mainline trains. To reach the central area from the station, head straight from the entrance along Viale Matteotti (where there is a Saturday market) to the large Piazza Incoronazione which is dominated by a collection of tall palm trees. To the right of the piazza Via Tiberis Solis is a reasonable shopping area. If you turn left and then right along Via Soccorso, this takes you into the centro storico where most of the churches and palazzi can be seen.
San Severo seems to have more than its fair share of lively festivals, often including pyrotechnic displays even in the daytime. We have never experienced one of these but if you are in that area it may be worth checking out if there is anything happening.