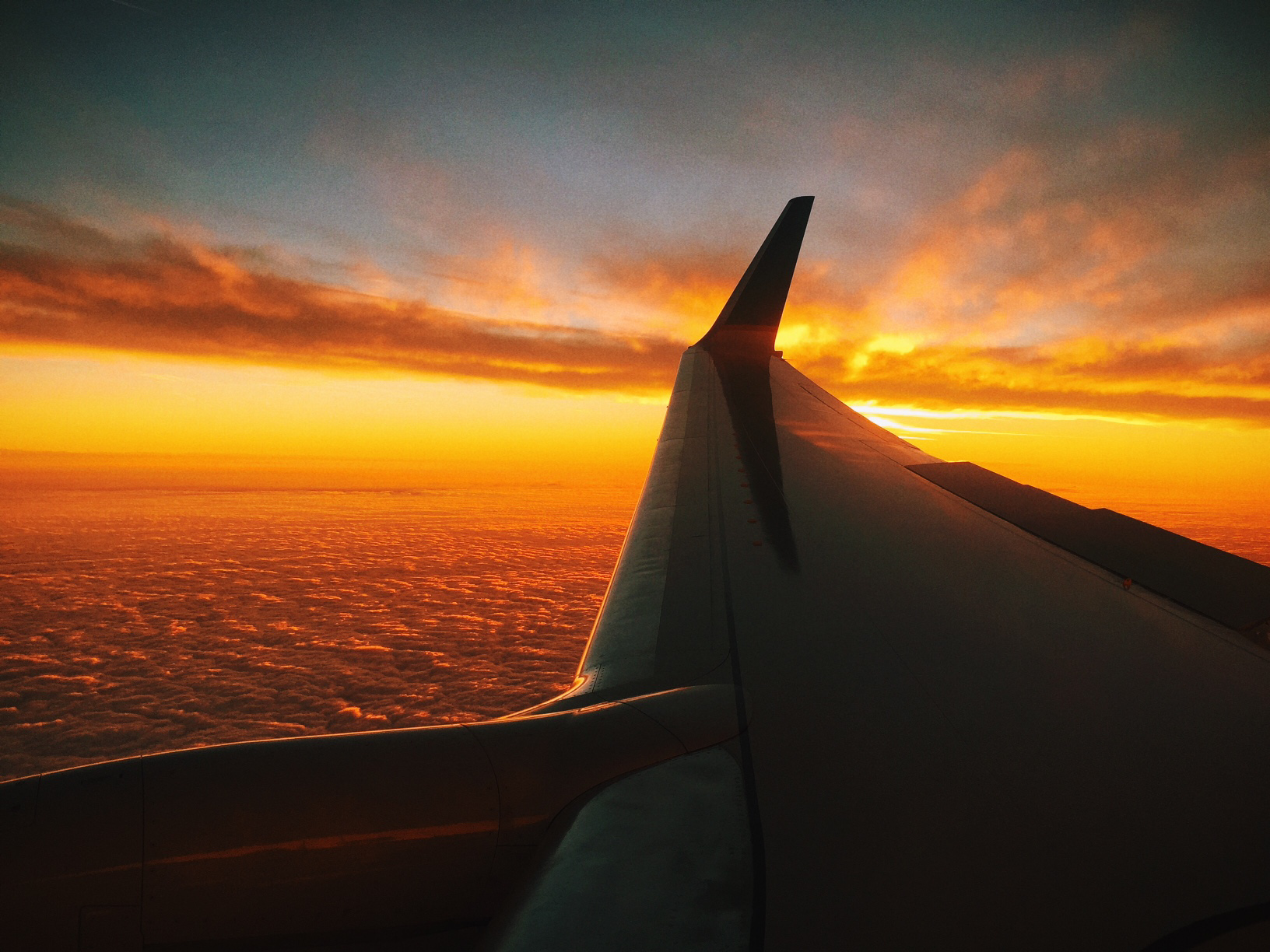 By Air
Puglia is served by two international airports, Brindisi and Bari. They are run by Aeroporti di Puglia and are both modern airports, with good facilities and services. Brindisi airport in particular is a small, well run airport, which means waiting times are usually kept to a minimum.
To fly direct to Brindisi from the UK there are three main routes, two from the south-east of England and one from the north-west. Ryan Air have regular services from London Stansted that run throughout the year; and a route between Manchester and Brindisi, operating twice a week from Spring to Autumn. EasyJet also have a limited direct service from London Gatwick, which runs from April through to October, with no flights between November and March.
To fly direct to Bari airport from the UK there are four options from the south-east of England; one from the north west of England; and now (2022) one from Scotland. Ryan Air offer regular services from London Stansted, running throughout the year. EasyJet and British Airways have a more limited service, both from London Gatwick – EasyJet have flights from January to October with no service in November or December, whilst British Airways have flights from April through to October, with no service from November until March. Whizzair operate a twice weekly summer season route between Luton and Bari. Additionally, Ryan Air has a twice weekly service each way between Liverpool and Bari from April through to October; and from the end of March 2022 has established twice weekly flights from and to Edinburgh.
As an alternative to flying into either of the Puglian airports, it is also very much a feasible option to take advantage of one the larger airports at Rome or Naples, which all have frequent flights from all over the UK. Hiring a car on arrival and then driving across to Puglia can be more appealing than a longer journey to the airport within the UK, and is an option many of our guests choose. Journey times will obviously vary for any number of reasons but Rome to Ostuni is roughly 5 hours, and Naples to Ostuni about 3.5 hours. (NB Travelling on by train from Rome or Naples is also possible).
There are direct air links between Puglia and all other Italian airports and many key European airports - including Paris, Berlin, Barcelona, Frankfurt, Brussels, Amsterdam, Geneva, Zurich. Air travel with a flight transfer is therefore an option.
There are some direct services between Dublin and Bari (Ryanair) and Brindisi (Aer Lingus).
By Car
As in the UK, there are various different types of roads in Italy, with varying speed limits and regulations.
The Autostrada are similar to motorways in the UK, and are prefixed with an 'A', with green signs and white lettering. They are invariably toll roads, whereby you take a ticket when you get on and pay the necessary toll for the distance you have travelled when you get off. In Puglia the main 'A' road is the A14, which enters the region between Termoli and San Severo and heads south-east to Bari, before heading southwards to Taranto. The A16 comes into the province from Naples in the south-west of Italy, and ends to the south-east of Foggia, near Barletta and Andria. If travelling to the province from Rome the normal route would be south on the A1 to Naples before taking the A16 towards Puglia. The speed limit on these roads is usually 130 km/h.
The other types of roads you will find in Italy are as follows:
'SS' roads – Strade Statale – not toll roads like the 'A' roads, but are often duel carriageway, with speed limits of 110 km/h, or 90 km/h where they are single lane. The SS16 will take you from Bari to Ostuni, with the majority of the journey on duel-carriageway.
'SR' roads – Strade Regionale – similar to the 'SS' roads, they are maintained by the region rather than the national government.
'SP' roads – Strada Provinciale – these are roads maintained by the province and make many of the connections between towns and villages in Italy. They usually have speed limits of 90 km/h but often vary depending on the surroundings.
'SC' roads – Strada Communale – roads maintained by the local commune, or local authorities, usually located within towns and cities, and have variable speed limits.
'SB' roads – Strada Bianche – these roads incorporate the rest of the country's road network, and can be of variable quality, some without tarmac or significant paving. They complete the connections between rural areas and the main road network.
To reach the town of Ostuni, follow the main coastal highway either south from Bari or north from Brindisi and take one of the several Ostuni signed junctions. If travelling from the north we tend to come off at the junction signed for Montalbano, follow the SP7 and then turn left onto the SP16 into Ostuni. From the south we use the junction at Torre Pozzella.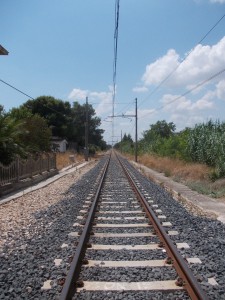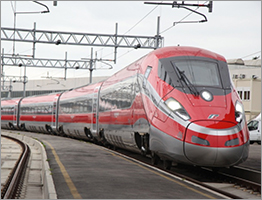 By Train
PROS AND CONS
We have a lot of experience of travelling by train between the UK and Italy, including Puglia. It is straightforward, interesting and comfortable - we regard the journey as part of the experience.
Train travel is much more stimulating and varied than travel by air. The view from the window is often terrific;  you can move around on the train as much as you want; and you encounter more people.  Railway stations are much better than airports in which to spend time en route; we usually go outside the stations to find a park, a bar, a restaurant, even do some shopping or sightseeing (all the main stations have a left luggage facility).
The massive advantage over air travel is avoiding all the airport hassle, luggage regulations and travel to and from the airport.  It is possible to arrive at the Eurostar terminals in London, Paris and elsewhere about 45 minutes before your train is due to leave and have ample time to catch the train on which you are booked.
The downsides are
* time
* cost.
Time
"Getting to Italy" by rail from the UK basically means to the north of Italy, or maybe as far as Rome - this takes a full day. Puglia is still a long way off, you need to allow the best part of another day. So we suggest:
* consider travelling by train if you have at least 10 days available for your trip overall, count the travelling days as part of the experience
* break the journey in the north of Italy
* travel one way by air, the other by train (but this means you have to keep an eye on air travel luggage regulations)
* fly to or from the north of Italy or Rome, using the train between there and Puglia; this is an option we have often used, as it widens the number of UK airports with direct flights, and combined with a break of journey en route can be very enjoyable.
Cost
Cost is a significant consideration.
It is difficult to beat the cheapest Jet2, Ryanair and Easyjet prices, although you can get quite close if you book well in advance and go for the cheapest fares available - round about £100/120 per adult one way London/Bari, a bit less if you are lucky (NB the most expensive part of this is trip is Eurostar London/Paris, so if you can get fares for less then £45 on this it will help). Leaving London early and with ample time to change trains in Paris and Milan, you arrive in Puglia about 8am the next morning having travelled overnight from Milan in a couchette.
TRAVEL OPTIONS
Have a look at "The Man in Seat 61" website, http://www.seat61.com/ This is vital to anyone interested in European train travel. The website gives all the train travel options between the UK and different parts of Italy. It is also a fund of detailed information eg how to book tickets on line, getting between the railway stations in Paris, how to use Italian ticket machines.
The quickest way using an overnight train
The quickest way to Puglia by rail used to be a trip involving the overnight Paris/Milan sleeper (Thello) train. However, following a suspension of this service due to the coronavirus pandemic, it has been decided to abandon this service. It is possible this valuable overnight route may be taken on by another rail operator. In the meantime we would suggest an overnight train from Munich (reached via Eurostar London-Brussels) to Venice or Rome. We will describe this route properly in due course when we have some direct experience but can give advice on it now if anyone is interested. This involves leaving London at about 10am, arriving in Bari, Brindisi or Ostuni the following afternoon.
The quickest way with an overnight stop
This involves taking a morning Eurostar to Paris, then the afternoon service between Paris Gare de Lyon. Turin and Milan. This has the advantage of a really beautiful Alpine section between Lyons and Turin (entering Italy via the tunnel linking Modane and Bardenecchio), especially dramatic in winter. Advance bookings on the TGV or (from 2022) an Italian Frecciarossa from Paris to Milan or Turin can be obtained for about £30/35 per person. You can stay overnight in Milan before travelling on to Puglia, but the TGV/Frecciarossa from Paris stops at Turin Porta Susa (about 90 minutes short of Milan), and we ourselves much prefer stopping off in Turin rather than Milan. There are good quality, good value hotels near the Porta Susa station. Turin is an extremely lively and attractive city, still little known compared with the much flashier, cosmopolitan and expensive Milan.
There are plenty of train options for the onward journey to Puglia. There are three long distance train categories between Turin, Milan and Puglia - Intercity; Frecciabianca (White Arrow); and top of the range Frecciarossa (Red Arrow). All three categories have spatious, comfortable seating. You can select seats when booking in open saloons or compartments, at a table or not.
The Intercity takes 10/11 hours from Milan/Turin to Bari, stopping at all main stations; the Frecciabianca takes about 8/9 hours; and the limited stop Frecciarossa services take about 7/8 hours. You can get direct trains or there are options involving changing at Bologna. Getting a fast morning train means you can be in Puglia mid afternoon.
As long as you book in advance via Trenitalia website, you should be able to get Intercity tickets for about £30/35 each, Frecciabianca tickets for about £50 each, Frecciarossa tickets for about £65 each.
The fast Frecciarossa trains from Milano Centrale only go as far as Bari. The newer Frecciarossa service connecting Turin with Puglia via Milano Porta Garibaldi goes on to Brindisi and Lecce. Although they are definitely the most comfortable train option (seating and facilities are excellent), you may feel the Frecciarossa is not worth paying extra for to cut not much more than and hour off the time the trip takes on a Frecciabianca.  We suggest using a Freccia train rather than an Intercity, the time saving is worth it. But if you are really trying to keep the cost down and/or can afford the time, the Intercity is a great way to travel so long as you remember to stock up on food and drink. The seating is comfortable; although one tip is to travel first class which often costs only a little bit extra, seating is very spatious, and you can choose a seat at a table for two or four people according to preferences.
Frecciabianca and Intercity trains go on from Bari to Brindisi and Lecce; most Intercity and some Frecciabianca trains stop at Ostuni. Otherwise to get to/from Ostuni you will need to change at Bari and take a Regional train.
It is a good idea to get some food and drink to take with you on the train. There are reasonable buffet facilities on Frecciarossa (this also has a decent restaurant option) and Frecciabianca trains but none at all on Intercity trains (and no chance to leap off and buy something at a station stop - believe us!) - so if you go for the cheaper, slower train make sure you have got a good stock of food and drink.
Some other options
A longer route from Paris or Brussels to Milan is via Basel and Bern, entering Italy via the Simplon Tunnel. But make sure this is undertaken in daylight;  the section from Bern to Milan through the Alps and alongside Lake Maggiore is spectacular. If you take this route, you may want to stop overnight in Milan, or you can travel on to Puglia overnight.
We have used overnight trains from Turin and Milan to Puglia, allowing us to spend some time in either city before travelling south. These are cheaper than the day trains, especially if you just want a seat (we have never done this, but lots of people do) or a couchette (which we have). If you book well in advance you can also get two (and three) person sleeping compartments. These trains leave in the evening from Turin and Milan, arriving in Ostuni at about 8am the following morning.
BOOKING WEBSITES
There are various booking websites we suggest.
If you want to book all the way through between the UK and Puglia, try Rail Europe  This gives various options available, is pretty easy to use, and tickets are sent by email. However, we have found that it is not always up to speed with the discount systems available in Italy; so it is worth checking the prices quoted by Rail Europe for legs of journeys within Italy against those available via the Trenitalia website.
For travel within Italy, the Trenitalia site is the one we prefer http://www.trenitalia.com/ Before using this however, we recommend you refer to the detailed guide on how to use it from The Man in Seat 61 http://www.seat61.com/
Contact us for more specific advice if you are interested in rail travel to Puglia. We are happy to share our experience and tips.