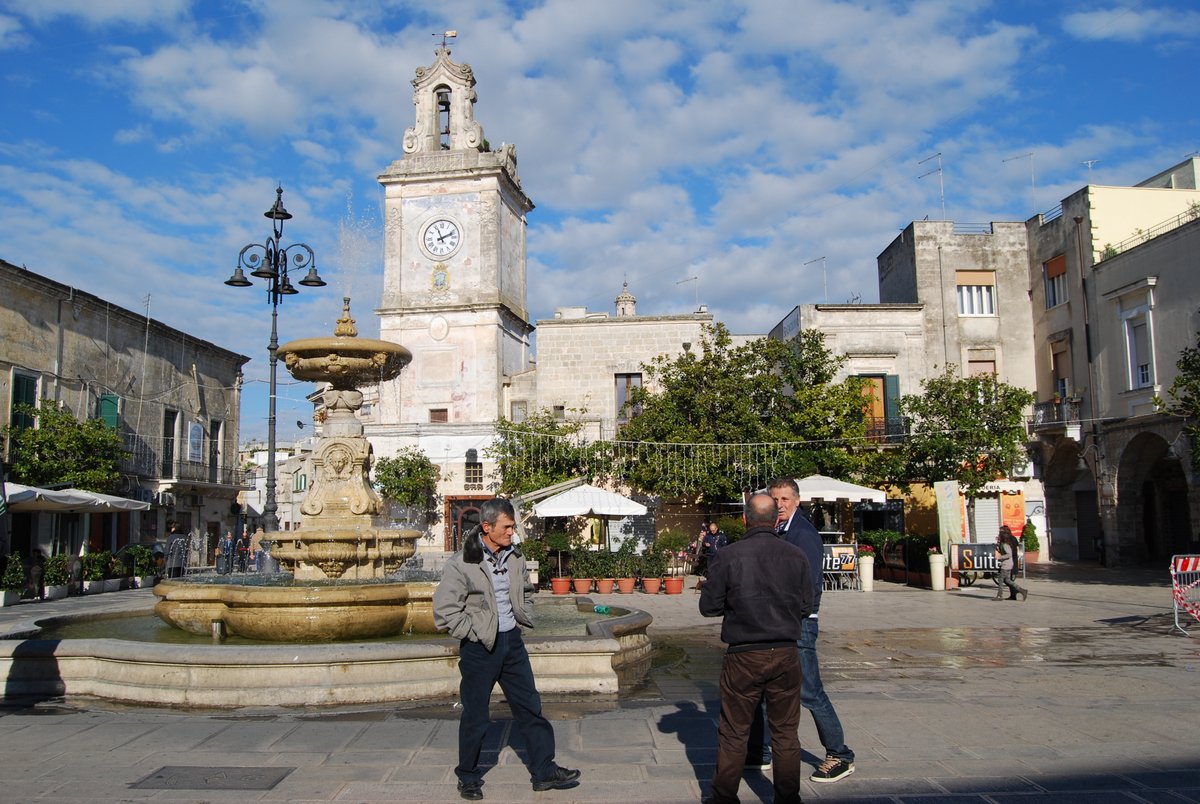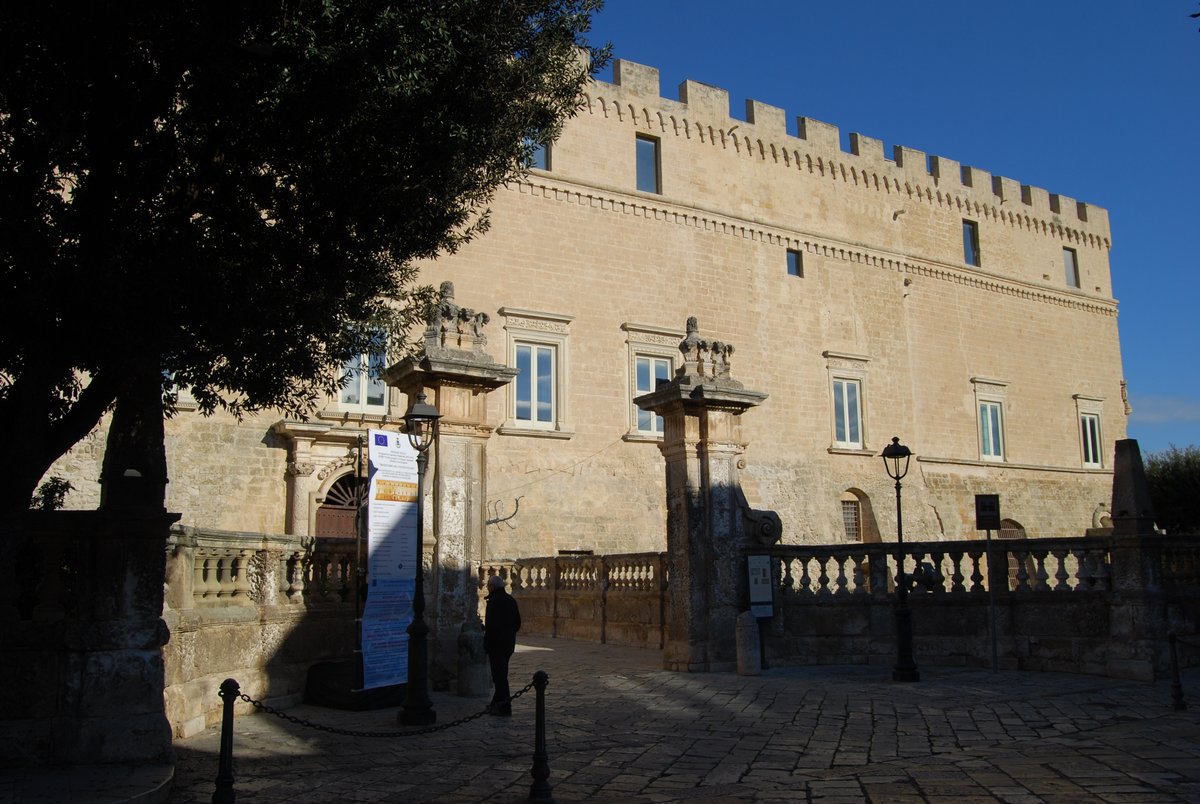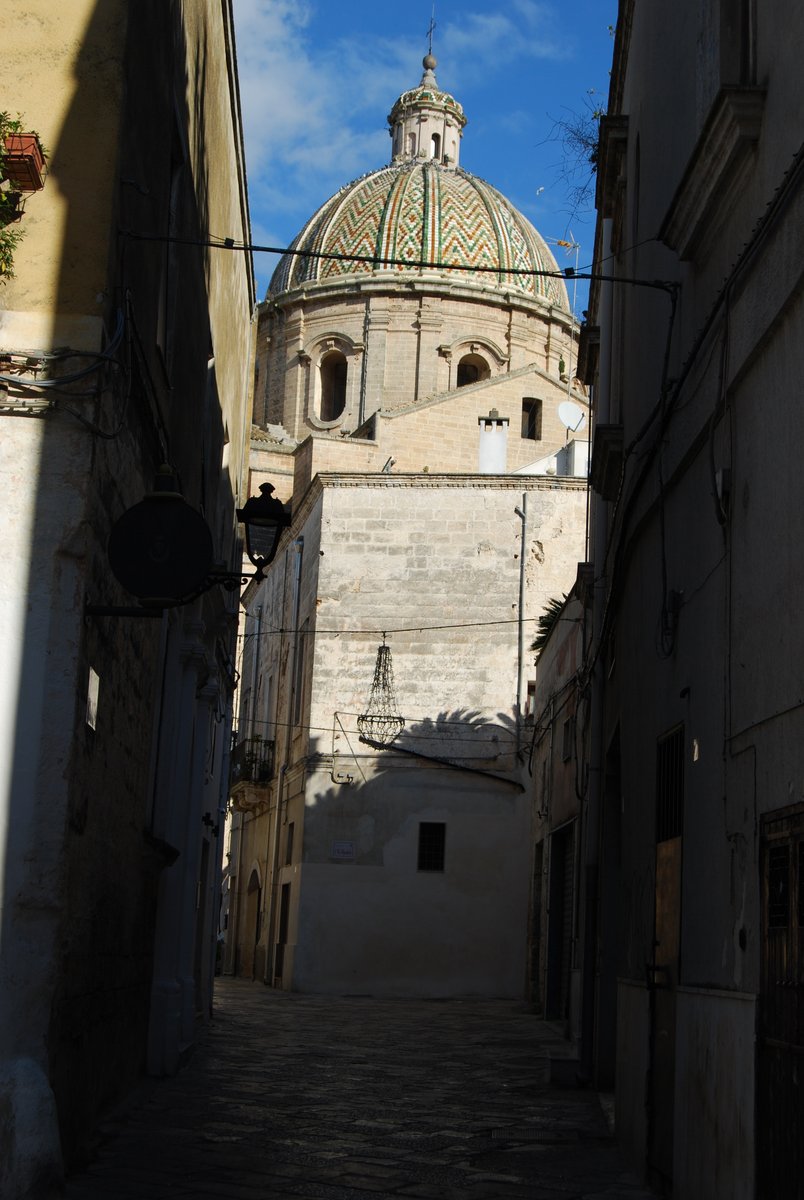 Head south from Ceglie Messapica and San Vito Normanni and you come to the town of Francavilla Fontana on the edge of the Murge plateau. Allegedly the Norman Prince Filippo d'Angio re-named the town after seeing a vision of the Virgin Mary, using the French words 'Franca' meaning 'tax free', 'villa' meaning 'town' and 'Fontana' meaning fountain.
The central area contains some attractive side streets and a couple of buildings of note - the Castello Imperiale and the Chiesa Matrice (Mother Church) also known as the Basilica Minore Pontificia Santissima Rosario.
In the 16th Century the large castle Palazzo Imperiali was sold to the Imperiali family along with the town of Oria by Carlo Borromeo, who distributed the gold to the poor of Milan then suffering from the plague. The Castello is a pretty solid square pile in the middle of the city. The fortress foundations are surmounted by 17th and 18th century constructions, reflecting its use as a residence by the Imperiali family. It is now owned by the municipality, who use part of it for offices. Some rooms were opened to the public very recently (August 2014) following renovation, but we have not found out details of opening arrangements, and we have done no more than walk round the outside and admire its bulk!
The Chiesa Matrice (Mother Church) is also known as the Basilica Minore Pontificia Santissima Rosario. This was rebuilt in the 18th century after an earthquake destroyed its 14th century predecessor. The decorated dome is the largest in the Salento area of Puglia, and is a major landmark for people passing by the town. Inside there are three naves and interesting side chapels. The decorated doorway with three entrances is heavily decorated, and overlooks a quiet piazza surrounded by other attractive buildings - a surprisingly sleepy spot in a generally quite lively town. (NB We recommend the coffee and friendly service in Caffe Duomo on a corner of this piazza).
At Easter the town puts on the Processione dei Misteri, where the 'Pappamusci', the friars from the Chiesa del Carmine, walk barefoot and carrying sticks to complete a procession through the town, praying at each of the churches on their knees.
Unlike some other towns, the attraction to us of Francavilla is in the more modern centre which adjoins the older parts. The tree lined Corso Umberto I is elegant and lively, and this leads into the very cheerful Piazza Umberto I, where there are ample places to eat, drink and sit watching life in a city rarely visited by foreign tourists (or Italian ones for that matter).