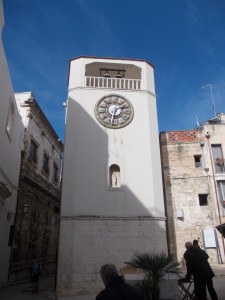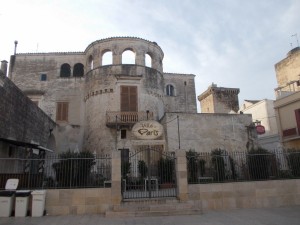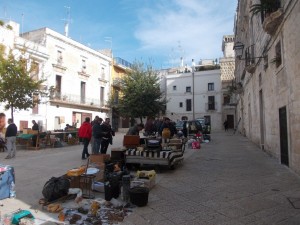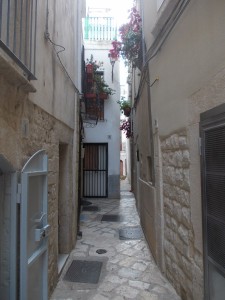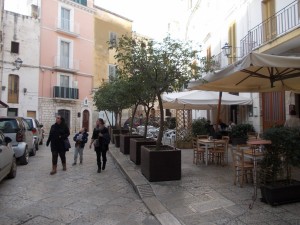 A few kilometres inland from Mola di Bari on the road between Bari and Conversano is the small town of Rutigliano. It is a medieval town set within vast areas of vineyards, which has earned Rutigliano the nick name 'Citta dell'Uva' or 'City of the Grape'. The Norman settlement was built on the site of the ancient town of Azetium, and tombs dating back to the 6th-7th Century BC have been discovered around the castle area. Just to the north of the town a section of the Roman acqueduct that stretched through this area still remains intact.
The 11th Century castle is no longer standing, but there are several remnants still visible, and a 34m high Norman tower in the centre of the town, just next to Piazza Cesare Battisti.
Other than grapes, Rutigliano is renowned for its terracotta products, most notably cooking pots and whistles, 'fischietti', formed into animal or human shapes. These items dominate the town's Feast of St. Antonio Abate with its terracotta whistle fair, held every January 17th.
Rutigliano is a pleasant and welcoming town worth visiting in conjunction with one or two of the other towns in the area, or Bari itself. Within the old town there are a number of small squares connected by narrow winding streets (some very narrow!) hosting some fine buildings such as the impressive Chiesa di Santa Maria della Colonna. This church dates back to pre-1000, subsequently being enlarged to it's current shape in the 12th Century.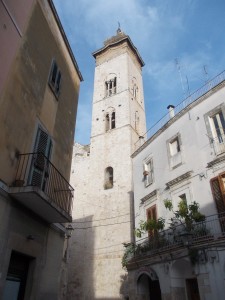 During our visit to the town there was an antiques fair taking place, primarily located at Piazza Settembre XX behind the war memorial, but also spreading through the streets and squares of the old town. Traders offered an eclectic mix of old farm tools, paintings, ceramics, furniture and general bric-a-brac, with some really quite curious items - a perfect stop off to purchase an unusual holiday gift on the way to Bari airport! It takes place on the first Sunday of every month.
There are a number of cafes dotted throughout the squares of Rutigliano's old town to stop off at for refreshment, and a small choice of restaurants. We ate at La Vite Bianca, located in Piazza Umberto I, just next to the Chiesa di Santa Maria della Colonna. They offer a nice selection of starters (the pure di fave was particularly good), pasta dishes and both meat and seafood main courses, set within a stylish, modern decor. Pizzas are also available in the evening.