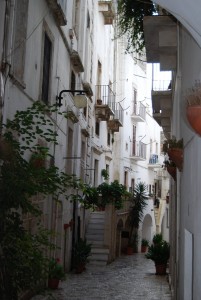 Situated inland, to the south-west of Monopoli, is the town of Putignano. It has a population of about 27,000, but its bustling central area gives it a feel of a bigger town.
If you are interested in getting lost in winding narrow streets, then Putignano is for you - it is the only centro storico in Puglia where we have got genuinely disoriented. The centro storico is ringed by the main street of the modern town, and consists entirely of narrow streets with a few tiny squares - even the main piazza (Plebiscito) is tiny. This lack of a focal point is really confusing to the visitor, not helped by an absence of any signs and street plans - we have seen two signs pointing to a tourist information point but never actually found it. You find yourself coming out onto the modern perimeter in unexpected places.
In the Piazza Plebiscito is the Chiesa Madre di Sant Pietro Apostolo, a romanesque church, and also the Palazzo del Bali, which was the home of the Knights of Malta and is now a part time museum and art gallery (we have not been inside this and find it difficult to get information about when it is open).
The narrow stone streets are all clean, well kept and populated, but there are hardly any shops, bars or restaurants, this is definitely off the tourist trail - except for its carnevale, which puts Putignano firmly on the map.
Carnevale is a pagan tradition adopted by Catholic Italy and many parts of the world, a period of partying and high spirits preceding the privations of Lent. Putignano carnevale claims to be the oldest in Europe, dating back to 1394. In Italy it is regarded as very important, ranking alongside the well know Venice carnevale. It is certainly the longest carnevale period in Italy, lasting from the 26th December (St Stephen's Day) until Shrove Tuesday, with four main events throughout the period. The carnevale origins track back to when the relics of Saint Stephen reached Monopoli and so the town's inhabitants marked the occasion with a celebration which has lasted ever since. Today, the carnevale events feature parades of giant floats, music, huge grotesque models and masks.
We have never personally experienced Putignano's carnevale. However, if you are around from Boxing Day (26 December) to mid/late February, you can have a chance to see it. There is a web site which gives all the information, dates and programmes, see:
http://www.carnevalediputignano.it/programma.
In recent years the city has also staged a summer festival in addition to the traditional early year celebrations, usually held in the month of July.