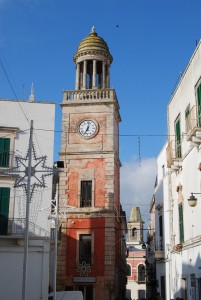 West of Alberobello and south of Putignano is the town of Noci. Established in the Norman era, the town is renowned for its dairy products, such as mozzarella, burrata and stracciatelle. It is named after walnuts, which are in plentiful supply locally and are the base of the well known liqueur.
Noci can be reached by road or by the small railway line out of Bari. The lively modern town surrounds a small, self contained centro storico, a cluster of bright, well kept small streets, interlinking small courtyards called 'Gnostre'. These courtyards also give their name to the town's two biggest events, the Bacca nelle Gnostre and the Pettole nelle Gnostre e Cioccolato in Sagra, The Bacca nelle Gnostre is held at the beginning of November and is a festival of wine and chestnuts, with many of the best local wineries offering their latest vintages, along with 'street food' showcasing some of the region's best culinary specialities. The Pettole nelle Gnostre e Cioccolato in Sagra are organised in early December as a build up to Christmas with a mixture of history, archaeology and food, with a special focus on chocolate!
Noci is an attractive place to wander round, but this does not take long! Everything seems small compared with other places in Puglia. It is definitely not geared up for tourists, there are no gift shops or similar, and not many eating and drinking establishments. So unless you are going there for some special reason, it is probably best to visit during one of its food festivals, or at least during the summer months, when bars and restaurants are open in the centro storico and the small streets and squares come to life.
There is no museum or gallery we are aware of in Noci, but there is an unusual "Museo della Strada". This consists of a series of illustrated exhibition boards on the walls of the centro storico, not particularly linked to any specific building or place, mostly providing information about history, local trades and traditions, architecture, food and drink, agriculture, famous people from Noci (none we have previously heard of we are ashamed to confess). These boards are all numbered, there are about 30 in all, so we assume that they are designed as a "trail", although we have never followed them through so assiduously.