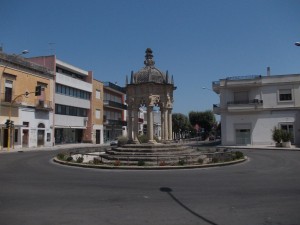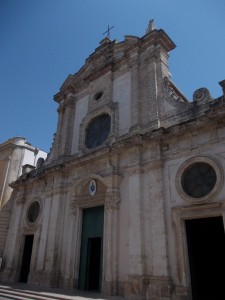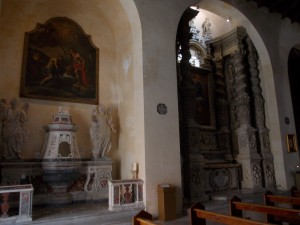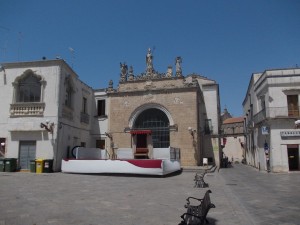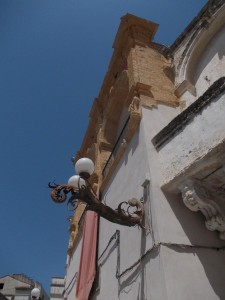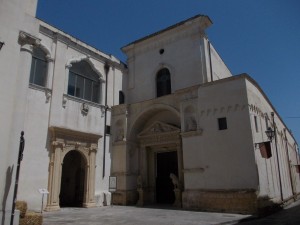 Puglia is full of surprises, but Nardo is one of its best kept secrets. If you get a chance to visit this extraordinary place, make sure you take the opportunity. It is a Lecce in miniature with hardly any tourists.
Situated inland about 30km south of Lecce, it is easily reached by road or by the Ferrovie Sud Est railway from Lecce (this takes about 40 minutes, and the station - Nardo Citta - is less than 10 minutes walk from the town centre).
The original Messapian settlement here was established around 1000 BC, and became part of the Roman empire and on the route of the Via Traiana. Post Roman history includes the Normans, Angevines, Aragonese, and the Acquaviva dynasty who give their name to the town's castle.
It is an absolutely charming old town, filled with palazzi, courtyards and churches. Its focal point is Piazza Salandra, a small but complex open space regarded as one of the most beautiful baroque squares in the whole of southern Italy. Roughly in the middle is the Guglia (decorated obelisk) dell' Immacolata, built in 1769. The piazza is flanked by important civic and religious buildings, including:
Chiesa di San Trifone - a 19th Century church constructed to thank San Trifone the Martyr for saving the local countryside from a plague of caterpillars (that makes it pretty special we think)
Il Sedile - the traditional seat of local justice, dating mainly from the late 17th Century, decorated in the ornate baroque style inside and out; you can see the inside, it now houses a very useful Information Centre where there are some better than average simple guides to Nardo, in English and in Italian
Palazzo della Citta - the former city government headquarters, rebuilt after the 1743 earthquake (which had an impact on the whole of the Salento), its arched portico and columns adding a deliberate "classical" dimension to the decorative baroque style
Chiesa di San Domenico - Nardo's main baroque church, totally reconstructed after the 1743 earthquake, with heavy decorations externally and inside; the main frontage is around the corner in Piazza San Domenico, but the side presented to Piazza Salandra contains the Fontana di Toro, the Bull Fountain, constructed in 1930 in honour of the bull which reputedly founded Nardo by pawing the ground and discovering a spring.
You can see all this, as well as decorated baroque balconies, doorways, frontages etc, while drinking coffee or a glass of wine in one of the two or three bars in the Piazza.
A short walk away down streets leading from Piazza Salandra are the Cattedrale which contains a famous black crucifix; various other imposing baroque churches; the Castello Aragonese (or Aquaviva), originally a 15th Century moated fortress, now housing the municipal offices - you can look into the courtyard inside; beautiful public gardens; and the Tempietto d'Osanna, a cupola/column monument built originally in 1603, dedicated to Palm Sunday celebrations.
The central area is small and can be toured in a short time. However, unlike a lot of towns of this size in Puglia, the area just outside the centre is reasonably attractive, with gardens, fountains, well kept streets etc.
Nardo is not overwhelmed with restaurants and bars, so you may struggle to find somewhere open, even in summer. If you want to eat interestingly and cheaply, if it is open we suggest Antica Trattoria Salandra, down a little street (Via de Michele) off Piazza Salandra. It is hardly advertised, and looks pretty dark inside (no street tables when we have visited). You will get really good home prepared food at astonishingly low prices, you can certainly get two or three courses plus wine, water and coffee for less than 15 euros (although check the charge of any special dishes offered, they are pricier than other things on the menu, while still excellent value).  The owner looks after things personally and is really anxious to make sure you enjoy his food. (NB In January 2017, this tiny restaurant was featured on UK television as part of the Hairy Bikers food tour of the Italian coast).
Nardo's seaside resort, a significant ancient port but a small fishing village until it became a resort,  is nearby Santa Maria al Bagno. This has an unusual museum, Il Museo della Memoria a dell'Accoglienza, commemorating the Jewish people who died in the Nazi holocaust. The Salento generally, and this coastal area in particular, contained major Jewish refugee resettlement camps in the 1943-47 period, and there are various works of art and documents dating from this time. We have not been to this museum, but it will no doubt be of interest to some visitors. Opening is by arrangement on 0833 838308/838339 or you can enquire at Nardo Municipal Offices in the Castello; there is a small charge.
Some 20km north towards Manduria, so not really near Nardo itself, is the Nardo Ring, a high speed test track built by Fiat, but purchased by Porsche in 2012. This has featured in the BBC television series Top Gear.