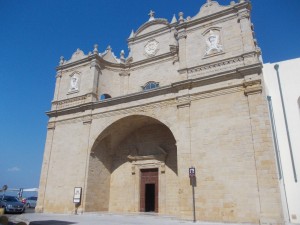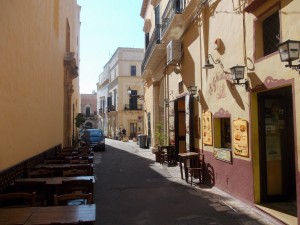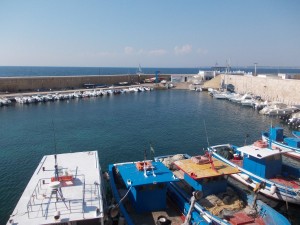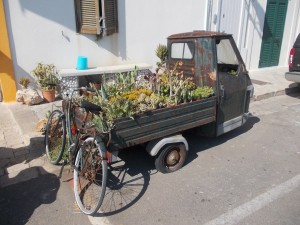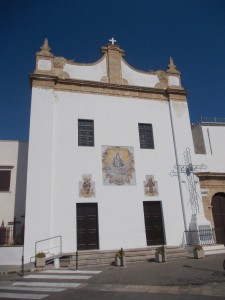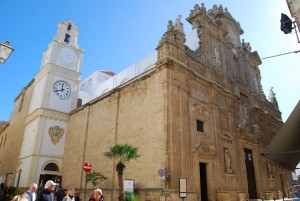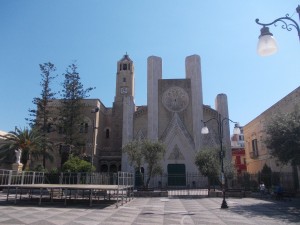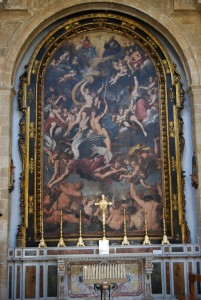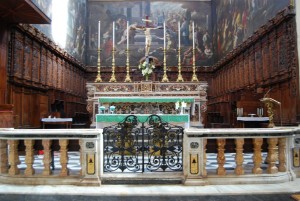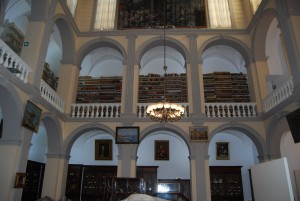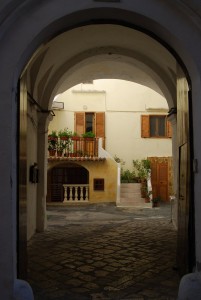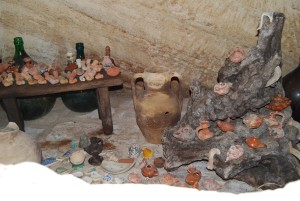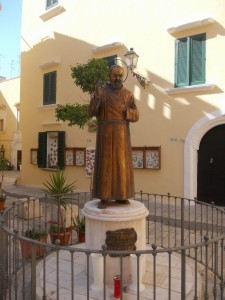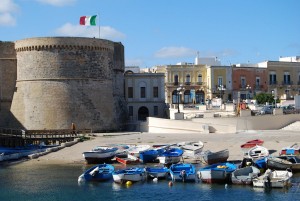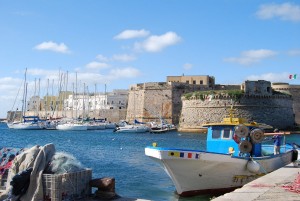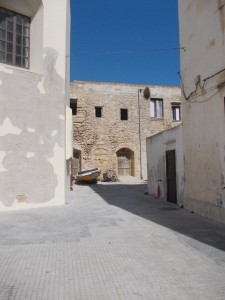 Gallipoli is located on the west coast of the Salento peninsula, to the south and west of Lecce. Meaning 'Beautiful City' in Greek, the town is of Messapic origins. After siding against Rome it failed to flourish within the Empire, and was then sacked by the Goths. Much of the old town today was due to the Byzantine rebuilding of the city, before it was ruled by Normans, Angevins and Bourbons.
As with many Puglian towns, Gallipoli today is split into two very distinct parts, the new and the old towns. The new town is situated on the "mainland". The old town is primarily located on an "island". Surrounded by the sea, it is connected to the mainland by a bridge built in the 16th - 17th Century, reputed to be the oldest bridge in Italy - and now dominated by a very tall and ugly building on the mainland side (known as the Glass Palace or the Skyscraper), completely out of character.
For most visitors, Gallipoli old town on the "island" is the attraction - and if you are on even a short trip to this part of Puglia, Gallipoli should be high on your list of places to visit - the old town has massive character plus lots of points of interest packed into a very small area.  However, Gallipoli is one of Italy's main summer holiday and tourist destinations. In the peak months of July and August it gets very crowded indeed, and is very lively. It receives a lot of visitors at other times of the year, but if you get a chance to visit outside the high season, you will appreciate its attractions more.  
Running through the middle of the new part of Gallipoli is Corso Roma, an elegant tree-lined road flanked by up market shops, bars, hotels and restaurants. Corso Roma leads straight to the bridge into the old town.
The old town is completely enclosed by defensive walls along the sea; these originated from the 14th Century. Along the top of the old walls there is now a road (known as the Riviera) which follows the edge of the old town "island" in a circuit, populated with many bars and restaurants. Some of these have views to the island of Sant'Andrea with its lighthouse, now a nature reserve, a short distance away into  the bay. Others overlook the busy harbour and fish landing areas (there is an important fish market and landing area near the bridge).
As well as the castle, several important churches are located on this outer ring; most of these and other churches in Gallipoli are linked to religious fraternities which provided a welfare support framework for the community, especially the fishing community.
Inside this outer ring are narrow winding streets typical of the region, where you will find numerous Baroque churches and elaborately decorated palazzi, as well as more cafés and restaurants. The main street through the middle is called Via Antonietta de Pace; this links two small Piazze - Piazza Repubblica and Piazza de Amicis. Gallipoli old town has no large piazze, it is very compact and enclosed. Taking more or less any of the narrow winding streets will soon bring you out at the seafront road so it is pretty hard to get lost.
There are many things to see and do in Gallipoli, as well as the summer and to some extent all year round night life and cultural activity. It is a good place to wander round casually. However, for the day visitor, we would suggest a few specific things which we hope will be of most interest. Fortunately all are within a few yards of one another in the old town.
The Basilica Cattedrale di Sant'Agata is an absolute must. Its exterior is a good example of Lecce style baroque, crammed in among the narrow streets without any spacious piazza in front. But make sure you go inside (closed usually between noon and 3pm). The interior is a beautifully balanced pattern of architecture, decoration and altar paintings, including key works by the local 17th century artists Giovanni Andrea Coppola and Nicola Malinconico. A visit to the crypt is essential, a dark chamber packed with pillars and remains of frescoes on the walls, very atmospheric.
The Castello Angioni (dating in its current form mainly from 15th and 16th centuries), a key fortress in this area, is located next to the bridge. It has only been open to the public since 2014 and is still being improved in this respect. The entrance is through a 19th century market hall  now modernised and renovated with gift shops and a cafe/wine bar. Entry to the castle (it closes 1pm-3pm) costs five euros but there are concessionary rates. In this case the price is worth paying. The interior of the castle is basically military and functional, the most interesting and impressive features being large circular and polygonal rooms with very thick walls. There are fine views from the ramparts. The information on the various parts of the castle is well organised.
Try to see a Frantoio Ipogeo (underground olive press). There are several open to the public, entry costs 1 or 2 euros and is well worth it; there were said to be 35 in the old city. Gallipoli was a massive centre for production of low quality olive oil for use in oil lamps throughout Europe, including London.
We like the Museo Civico Emmanuele Barba, but not everybody will. This costs a euro, and is open mornings except Mondays. It contains a weird collection of objects including the skeleton of a whale, various other skeletons, fossils, rocks, stuffed birds and animals, coins, old costumes, weapons, prints, tools, instruments etc, all mixed up and badly presented in a lofty book-lined room. But be warned if you go upstairs (NB you are supposed to pay extra to do this - but nobody seems to bother) - there is a deeply unpleasant collection of aborted foetuses preserved in jars, not for children or the faint hearted.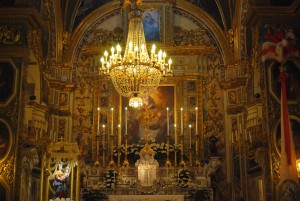 Two of the several churches on the Riviera have unmissable interiors if you can find them open - Santa Maria della Purita and San Francesco di Assisi - especially the former.
There are places everywhere in Gallipoli for eating and drinking. Seafood features strongly of course, so if you don't fancy this you need to check on a menu to make sure that other options are available.
The Spiaggia della Purita is Gallipoli's main beach, situated on the old town island, and has a reputation for a vibrant party atmosphere – the bars and cafés around this and nearby beaches and sites in the surrounding countryside all contribute to the town being known as the party capital of Puglia.
Gallipoli is easy enough to reach by car from Ostuni, taking not much more than an hour by car; it is linked to Lecce by a direct dual carriageway. You will need to park somewhere in the new town and walk into the old town which has limited access (there is a car park near the bridge).
However, you can easily get there by train using the Ferrovaria Sud Est railway service from Lecce (or maybe Francavilla Fontana or Ceglie Messapica, change at Novoli). If you do this, make sure you don't get off at an extra station they slip in at Gallipoli (Via Agrigento). Outside the main station walk straight ahead for about 100 metres, then turn right along Corso Roma until you reach the bridge to the old town - 5-10 minutes pleasant walk.  
Although it is easy enough to visit Gallipoli from Ostuni, we have stayed overnight there in a brilliant hotel, details available if requested.