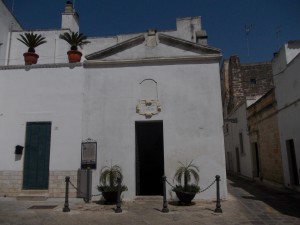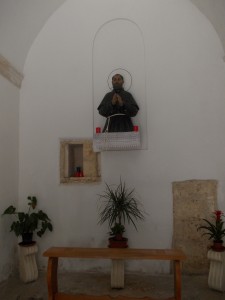 To the south west of the city of Lecce is Copertino. The town is dominated by a very impressive castle, which dates back to the 6th Century, but was significantly redesigned and expanded in the 16th Century by the Evangelist architect Menga. Unfortunately at the time of our visit there were major renovation works taking place so access wasn't permitted, but internally you can view the Capella di San Marco and tunnels linking the ramparts. Notices indicated that work would be completed by the 1st October 2015.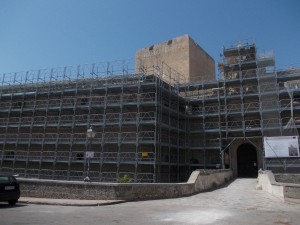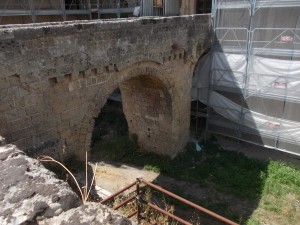 In the early 17th Century Copertino was the birthplace of San Giuseppe da Copertino, also known as 'The Saint Who Flew'. From an impoverished background, he started having ecstatic visions as a child and as an adult was drawn to a religious life. It is claimed that he regularly levitated whilst conducting religious ceremonies, his growing reputation earning him the suspicion of the Church superiors who confined him to a cell and denounced him for practising witchcraft. He died in 1663, was beatified in 1753 and canonised in 1763. He is the patron saint of air travellers, aviators and astronauts. There is a church in the centre of town dedicated to him, and it is also possible to visit the house where he was born just opposite. Outside the town is the Santuario di Santa Maria della Grottella, where he spent most of his life.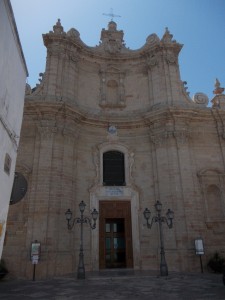 Copertino wine has also achieved DOC status, primarily using the local grape Negroamaro.
There are not really any cafes or restaurants near the Church of San Giuseppe or castle, but plenty to choose from along the main road in the newer part of town just a couple of minutes walk from the castle.