Trullo Annunziata is high quality accommodation in a converted trullo (Puglia's famous traditional houses with distinctive conical tops). It is in a secluded space on Puglia Passion's own estate in the countryside. The facilities are entirely private, in particular guests have personal and exclusive use of the beautiful swimming pool.
If you are interested and wish to book, please get in touch and we'll get right back to you with availability and a quote. We can also discuss any specific requirements.
We advertise on the VRBO holiday property platform and also via Trip Advisor. However, it is significantly cheaper to book with Puglia Passion directly, as booking via the holiday platforms involves their significant additional commission. So don't hesitate to contact us if you want a really good deal.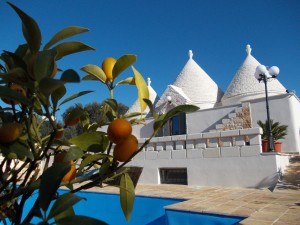 Trullo Annunziata
Trullo Annunziata, in the countryside outside of Ostuni, is the perfect base from which to explore the surrounding area and indeed the whole of Puglia.