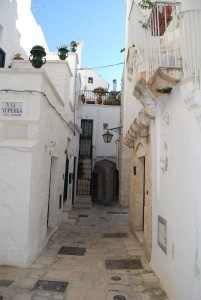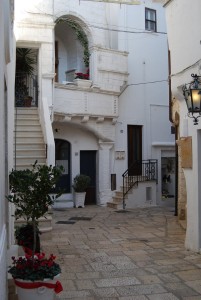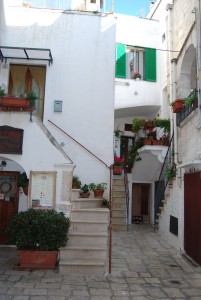 To the west of Ostuni and east of Locorotondo is the town of Cisternino. There has been a settlement here since the Bronze Age. Today the town follows the trend of many in the area, with a fairly nondescript new town surrounding a spectacular centro storico, with its whitewashed buildings carved out of the stone, narrow streets and small piazzas. Cisternino is a member of 'I Borghi Piu Belli d'Italia Club' – 'The Most Beautiful Villages in Italy Club'.
There are two main gateways to the centro storico - Piccena and Grande. Opposite Porta Grande is a small park and fountain area with welcome seats and also views across the valley to Locorotond and Martina Franca. Park away from these and walk up to one of them. (NB Cisternino has a station miles away on the main Baris-Brindisi line, avoid using this; but just below the town is a station on the small Puglia Sud line between Lecce and Martina Franca which will be convenient for some visitors).
There are useful maps of the centro storico close by both gates. These emphasise the four "quarters" inside the old walls - "Bère Vécchie", "Scheledd", "u Pantène", "L'ìsule" - and the one just beyond them "u Bùrie", Basically there are lots of small windng streets, several of them dead ends, within a very small area, interspersed with churches; signs tell you which quarter you are in. There is a main square, Piazza Vittorio Emanuele, but it is not very big and not very square; its main feature is a clock tower. A larger square (again not really square) is Piazza Pellegrini Rossi, a couple of minutes walk away via some steps and narrow streets. The two main buildings of note are the mediaeval Norman-Swabian tower, the original gateway next to the Porta Grande; and next to this the Chiesa Madre di San Nicola di Patara.
Cisternino is a very popular tourist destination. There are plenty of bars, restaurants and cafes. However, while it caters for tourists, it is not swamped by shops selling guidebooks, souvenirs etc. It is very pleasant to stroll round the simple whitewashed stone streets. In the main the centro storico is car free. But it is compact, so it can become very busy in summer and during the festivals (several in August and September).
The town's unique culinary attraction is the tradition of butchers' shops and stalls cooking your chosen piece of meat on the spot for you over a fire. The local specialty is 'bombette', rolls of meat filled with cheese and herbs. There is a lively market on Monday and Thursday mornings.