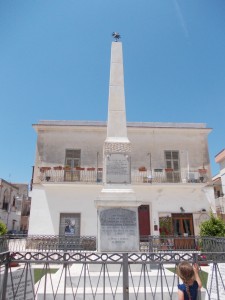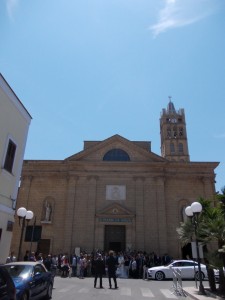 Located to the south east of Taranto and west of Manduria is the small town of Pulsano.
This is one of the oldest inhabited areas in the Gulf of Taranto region, with Ancient Greek and Roman influences, and subsequently French and Spanish, all contributing to the local dialect and culture. The proximity to the beautiful Ionian Sea and pleasant climate resulted in the Romans establishing the area as a holiday resort, building villas between the modern day town and the sea.
The most striking structure in the town is the 15th Century castle - Castello de Falconibus. A short walk away is the impressive Chiesa Santa Maria la Nova, which was hosting a typical Italian wedding during our visit to the town. Construction of the Romanesque church commenced in the first half of the 19th Century, but progress was slow and then halted by a fire in the late 1800s. Restoration efforts in the 20th Century were delayed by the World Wars, and in 1957 another fire destroyed many works of art housed in the church.
The town today is not a major tourist attraction but is worth a brief stop off for a coffee en-route elsewhere, such as the fantastic beaches along the Ionian coast.